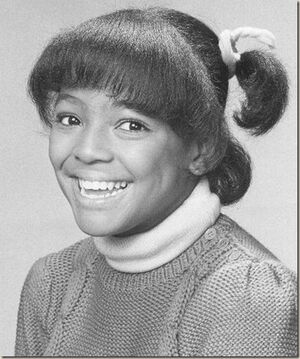 Dorothy "Tootie" Louise Ramsey was played by Kim Fields. Fields portrayed Tootie from the ages of 12 to 21. Tootie was the youngest of the main characters and the only black girl. She and her family hailed from Washington, D.C. She attended Eastland Academy in Peekskill for the entire show's run. Tootie's most-remembered attributes were her penchant for rollerskates (at first used by Facts of Life producers to mask Fields' short stature), her gossipy nature and her braces. In real life, Kim Fields had to wear braces for three years, finally having them removed in 1984. A lot of Tootie's gossip got her and her friends in trouble and she was noted for her catchphrase, "We're in trou-ble!" Tootie was involved in many very special story lines. For example, Tootie befriended a boy named Fred who insisted that she only associate with black people, in an attempt to realize "her true roots." In another episode, Tootie was chosen by a photographer to model for newspaper advertisements but was instead lured into a borderline kiddle operation and was saved by Mrs. Garrett at the last minute. During a trip to New York City, Tootie was almost strong-armed into prostitution before Mrs. Garrett found her and took her home. In another episode, she struggled with the race issue again when her best friend Natalie dated a relative of hers and Tootie intervened, causing conflict between Natalie and herself. Tootie's favorite singer is Jermaine Jackson. Tootie helped Mrs. Garrett with her bakery, Edna's Edibles, after school and then worked full-time at the gift shop Over Our Heads after she graduated from high school in 1986. In the 2001 The Facts of Life Reunion TV movie, Tootie had attended the Royal Academy of Dramatic Arts in London to pursue an acting career, was a Hollywood-based talk show host and was the single mother of Tisha, a 10-year-old (fathered by her longtime boyfriend and later deceased husband, Jeff Williams). After her visit, Tootie (who now preferred to be called "Dorothy") decided to quit her talk show, "Wake Up With Dorothy" and move to New York to take up the theater but not before becoming the co-owner of the Peekskill Playhouse. Tisha Ramsey remained behind to attend Eastland Academy and continue the family tradition.
Community content is available under
CC-BY-SA
unless otherwise noted.