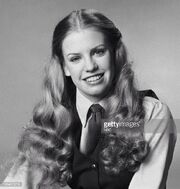 Sue Ann Weaver (portrayed by Julie Piekarski) was a student at Eastland Academy and one of the main characters during the first season of "The Facts of Life." She was from Kansas City, Kansas.
Sue Ann was first introduced on an episode of "Diff'rerent Strokes." She was described as cute, boy-crazy, but always got good grades in school. Her status of being the smartest girl in school was threatened when her I.Q. score was revealed to be the lowest of the group of girls.
Mrs. Garrett assured Sue Ann that her I.Q. has nothing to do with her abilities and after that, Sue Ann felt better about herself.
Sue Ann was also competitive with Blair Warner sometimes when it came to chasing boys. Even though she was not a main character after the show's first season, Sue Ann made several appearances in later episodes. She continued attending Eastland and roomed with Cindy Webster.
In 1986, Sue Ann returned to visit Natalie, Blair and Tootie (along with Nancy and Cindy) where it was revealed that she was a gofer at a corporation (at first, she told them she was an executive).
Community content is available under
CC-BY-SA
unless otherwise noted.