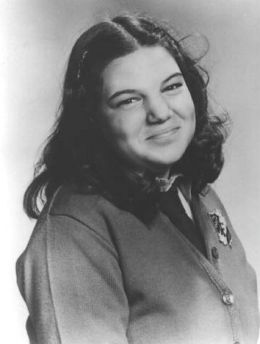 Natasha "Natalie" Green (born Natasha Letisha Sage Green) was played by Mindy Cohn. Natalie's best friend on the show was Tootie, as they were close in age. Natalie's age throughout the series was approximately 13 to 22.
Natalie's most defining physical attribute was that she was large-figured. However, Natalie had a healthy self-image and was once quoted as saying, "Who wants to be a skinny pencil? I'd rather be a happy Magic Marker!"
Natalie is Jewish just like Mindy Cohn is in real life and her faith was featured in several episodes. In one she celebrated Hanukkah while the others celebrated Christmas. Her heritage was highlighted when Dr. Green, her father, died unexpectedly; Natalie's bottled-up grief was a continuing storyline for several episodes.
Natalie was involved in many storylines regarding sex. In an early episode, she dated a boy who spread a rumor that Natalie was easy. In another episode, whilst coming home from a costume party she was nearly the victim of a sexual assault.
Toward the end of the series in that controversial episode, "The First Time", she became the first of the girls to have sex when she slept with her boyfriend Snake on their one-year anniversary.
Natalie was a budding writer and wrote for the Eastland Academy newspaper. She graduated Eastland in 1985. However, she doesn't go to college immediately and takes a year off to travel across the country on a bus. Her family and friends were initially dismayed, because she turned down an admission offer from Princeton University to go "Greyhound."
After a year, Natalie decides to attend Langley College and became a reporter for the local newspaper in Peekskill. She went to New York City towards the end of the series and decided to stay and pursue her writing career.
On the episode in which Natalie visits the SOHO loft she will eventually call home, her future roommates include Richard Grieco and David Spade. (The episode, which aired in 1988, was originally set up for Mindy Cohn to transition into a spinoff series, but the plans never materialized).
In the TV-movie, The Facts of Life Reunion, she is with her boyfriend and has a run-in with her ex. Her current boyfriend then proposes to her by phone.
Gallery
Community content is available under
CC-BY-SA
unless otherwise noted.