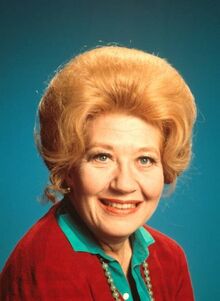 Edna Ann Garrett Gaines (better known to television viewers as Mrs. Garrett or Mrs. G) was played by
Charlotte Rae from 1978 to 1986. Edna Garrett was the youngest child in a large family, born and raised on a farm near Appleton, Wisconsin. Her exact age was never disclosed during the series but on several occasions, it was hinted or implied that she was somewhere in her fifties. On Diff'rent Strokes, she was the housekeeper to the Drummond family in New York City after Willis and Arnold's mother dies. In 1979, she took a job as den mother at the Eastland Academy in Peekskill, New York. Over the years, Mrs. Garrett's role on The Facts of Life changed. At first she was merely a live-in supervisor for the girls of Eastland; in the second season she became their in-house dietician who managed the school's cafeteria. Mrs. Garrett was married twice, divorced (first marriage) and widowed (second marriage); one early episode showed Mr. Garrett coming to town to woo her and reconcile but he was unsuccessful because Edna felt that his gambling problem would always be an obstacle. She had two sons, Alex, a singer-songwriter/carpenter and Raymond, an accountant. Raymond helped her raise funds and secure commercial space so she could open her own gourmet food shop, Edna's Edibles, in the fall of 1983. The girls, who had previously lived with Mrs. Garrett at Eastland and worked with her in the kitchen to pay off various restitution-related expenses (see below), moved into an apartment above "Edna's Edibles" and continued to work for Mrs. Garrett in the shop (this time on the payroll). In the fall of 1985, Edna's Edibles was extensively damaged by fire; it was rebuilt as a gift shop called "Over Our Heads." Since the insurance on Edna's Edibles had lapsed by the time of the fire, the girls contributed their insurance claim checks to help rebuild, effectively making Mrs. Garrett and the girls equal partners in the business. Edna Garrett was a mentor to the girls at Eastland, functioning in loco parentis. At times the girls would take her for granted, and forget that Edna herself had problems. Many times Edna would lash out at the girls when they got careless with her. In one episode, she actually fires them from "Edna's Edibles" when their irresponsible behavior ends up costing her $500 in fines after a dismal health inspection. She hires them back the next day when the girls promise her that they will be more responsible at their jobs. She also fires George, when he falls behind on his work constructing "Over Our Heads," but they later make up. Mrs. Garrett is a Democrat. She is also against censorship, such as book banning. Mrs. Garrett re-married in 1986. She and her new husband, Bruce Gaines, rejoined the Peace Corps to work in eastern Africa. Edna was replaced by her sister, Beverly Ann Stickle.
Community content is available under
CC-BY-SA
unless otherwise noted.